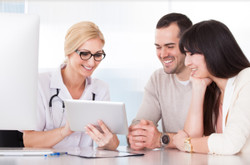 The Truehope Support Program provides support for both users of the nutritional micronutrient treatment, EMPowerplus Advanced™, and their doctors. The Truehope Support Program's goal is to share what we have learned through experience and with the guidance of qualified research advisors, in order that all who choose to use EMPowerplus Advanced may do so safely and as successfully as possible.
We encourage EMPowerplus Advanced users to work closely with their doctors as they progress through the program. We do not seek to replace medical advice nor do we encourage anyone to make a transition to EMPowerplus Advanced on their own. The Truehope Support Program is your professional resource, your access to the latest information and developments on EMPowerplus Advanced, and your link to other doctors who are currently working with EMPowerplus Advanced in their practices.
The Truehope Support Program includes:
- A well-established protocol that you may use and adapt to meet the needs of the individual
- An individualized reporting system for users, in the form of on-line standard psychiatric reporting charts, for you to access and monitor.
- The Truehope Support call center, available free of charge, on an unlimited basis, from 8:00 am to 5:00 pm (Mountain Standard Time), Monday through Friday. The Truehope Support call center is staffed by highly trained, non-medical professionals who are familiar with the use of EMPowerplus Advanced. The call center is available to both you and your patients.
- A website for registered EMPowerplus Advanced users, my.truehope.com, with an online support group message board and more detailed information about the program.
The product, systems, and protocol are the results of university and field research. Each has been designed using our experience and the knowledge of qualified research advisors.
To find out more, please click here or call 1-888-TRUEHOPE (1-888-878-3467).
Become an Authorized Carrier of Truehope Products
A variety of health care professionals distribute Truehope products around the globe.
Join an ever growing number of health professionals who connect their patients with Truehope products for balanced mental health and well-being.
​For more information or to receive your health professional guide and other educational information please call 866-397-3795 or fax 866-310-0931.